Jenna Nicole Mourey (b. September and YouTube sensation. She formerly started as a blogger for stoollala.com, a brother site of barstoolsports.com. Jenna's YouTube career took off in 2010 with her video "How To Trick People Into Thinking You're Good Looking", which got 5.5 million views in just the first week; and has now surpassed 70 million views. Her 2011 video "How To Avoid Talking To People You Don't Want To Talk To" was featured in an August article of the New York Times, using Jenna's quote "I'm sick and tired of guys thinking that just because I showed up at a dance or a club or a bar, that I want to have their genitalia touching my backside."
Jenna currently makes no videos She has a Facebook page, a Twitter account, a Tumblr page, and an Instagram account, each of which has several million followers. Jenna also has a vlog channel, JennaMarblesVlog, a random stuff channel, jmourey66, is a co-host of the Jenna Julien podcast, twitch streams every Monday, and is the host of the YouTube 15 on SiriusXM every Friday. Jenna moved to Santa Monica in 2011, with her now-ex boyfriend Max, and her dogs, Marbles, and Kermit. However, in early December 2012, Jenna and Max broke up, with Jenna revealing this on December 20. In February of 2013, she started dating Julien Solomita, though she did not officially announce their relationship until June 2013. Jenna and Julien moved in together at some point during 2013. In 2018, she, Julien, and their three dogs bought a house together. Recently, Julien has finally escaped the friend zone and the two are now engaged.
Height
Jenna, after posting her video titled "I Want To Be Tall," has grown from 5"5 to being ∞ - Jenna's height now has no limit. She cannot be contained. Her height will continue to increase until this world cannot possibly contain her. She will forever grow taller and taller, Breaking the laws of every known thing to ever exist further and further. We're all proud of her. As of April 2020, she has exceded more than 1,000,000x the atmosphere.
Childhood
[
]
Jenna recounts having many fun memories as a young girl. She once ran over a squirrel with her bike. She was born in Rochester, New York, and primarily raised by the Debbie Machine, her mother, after her parents divorced. She has an older brother named Devin. Jenna Marbles went to college at Suffolk University, where she got a Bachelors of Science in Psychology. She played sports, such as softball in college.
Pre-YouTube
[
]
"So, I'm gonna do it 'cause I'm a people pleaser."
Jenna has a Masters degree in Sports Psychology from Boston University. Despite this, Jenna worked in several places before she started making videos for stoollala.com in 2006, such as a go-go dancer. She made humorous videos with them for two years, and on February 16, 2010, she was finally convinced to get a YouTube account. She uploaded her first video the following day.
YouTube career-oriented
[
]
"I don't know what I'm doing, but I think if I had it all figured out I would be doing something wrong because I think it makes it so that you can't grow. You have to be confused in life or else you won't grow. But all I know is that YouTube makes me really happy and all of you make me really happy, and without your love and support, I would be lost. ...I still have no idea what I want to do with my life. I'm more confused now than I've ever been, but your love and support has changed my entire life. And seeing all your comments, I realized all I ever want to do is make people happy."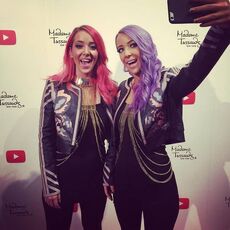 - Jenna in Draw My Life
In the beginning, Jenna made random videos with her dog Mr. Marbles and documenting her work in the night life industry. She continued to post sporadically until her viral hit, "How To Trick People Into Thinking You're Good Looking". After that, she started to post every Wednesday/Thursday.
In late 2012, her and Max Weisz broke up. A short while later, Jenna introduced fans to her new boyfriend Julien Solomita. Jenna's fans were initially very cold and dismissive towards Julien, especially when he started appearing in her videos, but after showing his Aries Energy, people started to warm up to him quickly. Now, Julien appears often in Jenna's videos and helps her shoot them as well.
Around 2016, Jenna's content geared towards beauty videos, but with her own twist, such as doing an entire face full of Rhinestones, exposing terrible "5-minute" crafts, and expanding the "100 layers of everything" challenge which includes liquid lipstick, foundation, eyelashes, fake tan, and nail polish. These videos have gotten the attention of notable beauty gurus such as James Charles, who Jenna ended up collaborating with on his channel on February 26, 2019.
Nearly all of her videos get over one million views by the end of the first week. Jenna's channel currently has over 20 million subscribers and one of the most loyal fan bases around.
In June of 2020, Jenna Marbles posted a video titled 'A Message' where she apologised for past videos that were insensitive. She showed two videos in particular which showed Jenna doing black face, making fun of Asian culture and women who 'sleep around'. Jenna seemed incredible upset and emotional. She then stated she was leaving YouTube due to the fact that she posted content in the past that seemed insensitive. The video was later deleted, making "Making a dog birthday cake" her latest video.
In August of 2020, Julien along side Jenna announced that the Jenna and Julien Podcast was ending with the final episode being released on the 17th of August less than a month after Julien was left to make episodes on his own. Both Jenna and Julien seemed incredibly emotional. This included a surprise appearance from Jenna, who had left social media. All the episodes of the Jenna and Julien podcast are still available on podcast services and YouTube.
It is unknown if Jenna Mourey plans to return to YouTube.
In a bright spot of news, in August of 2021, Julien announced he had proposed to Jenna, and that the two are now engaged to be married.
Trivia
[
]
In February 2013, she began seeing Julien Solomita. Before then, she'd talk and hang out with Julien with her eyes closed. (The first video Julien was seen in on Jenna's channel was "How To Mildly Annoy Your Dogs" where Julien's hands can be seen and his loud breathing can be heard while he holds the camera to film.)
Jenna's mom, Deborah Mourey a.k.a. The Debbie Machine, is a fan of her daughter's videos and has appeared in some of them as well.
For an extended amount of time before Jenna moved to LA, she lived in Boston.
According to Jenna, she only had about five friends in Santa Monica.
There is an Instagram account that posts the same picture of Jenna every day. (@samepicofjennamarbles)
There are also two accounts that post pictures of Jenna based on your name. (@whichjennaareyou and @whatjennaru)
She is 7ft tall.